Fujita Farm – Organic Forest Yoghurt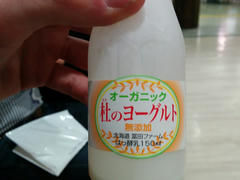 Horrible excuse for milk, pretty unimpressive as a yoghurt.
To be fair I have no idea what that label says – I'm hoping it is not claiming to be milk but it was in the milk section.
Overall Grade: E- Watery yoghurt, with a weak sour taste.
Update: Translation confirms this is not a milk. It is from Fujita Farm, Hokkaido.
Thanks to A. Santosa for translating the name of this milk yoghurt.