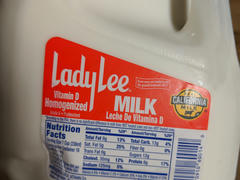 Sweet after taste, in a brief burst, which is not a good thing because it shouldn't be there.
Slightly creamy, but it might be better without this sadly tasting cream.
Consistency it too thin, and feels somewhat powdery.
Observed some separation in the milk after only a couple of days in the fridge. Streaks of lighter white patches on the surface. Not good.
Overall Grade: C+
With all the criticism about this milk, you might expect a worse grade. There are certainly better choices available, but ultimately this still passes as milk.
Purchased from Grocery Outlet. I purchased this multiple times and found the same features repeatedly.