Comparison: St Benoit vs Straus vs Alexander A2 vs Rosa Brothers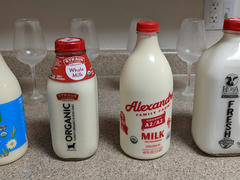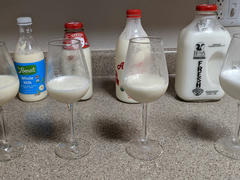 Four fine milks, in four glasses.
They were poured and shuffled while I was in another room. I tasted them without knowing which is which, all though these were all milk I had tried before.
Rosa Brothers
Rosa Brothers was the most distinctive, having a visibly whiter color and the clearest taste by a wide margin.
Maple Hill
The Maple Hill is also distinctive, being very smooth and homogenous with a well balanced creaminess.
Alexander
Unfortunently this particular bottle of Alexander was not very fresh (I suspect the supplychain failed to keep it cold), so it had a noticably worse taste. Alexander seems to be the only brand prone to this quality inconsistency.
Straus
Straus is a little similar to Maple Hill or Alexander (a good one), but generally will have more lumps of cream floating around.
Conclusion
I correctly identified all four milks.
St Benoit and Rosa are the best of this group (e.g. around A/A+), with Straus a little behind (A-). The bad Alexander was far behind the others (C+? a good Alexander can land around A/A-).